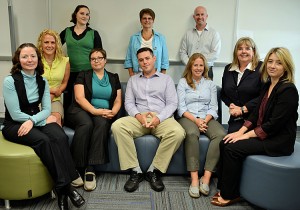 On Thursday October 10, the Centre for Innovation and Excellence in Learning (CIEL) will have an open house of its facilities, resources, services and personnel from10 a.m. until 4 p.m. We are located on the 5th floor of the library.
The Centre is planning a very active open house intended to give the Vancouver Island University community a sense of what support and services we offer, along with where we are located.
The Centre has been amalgamated for just over three years after combining the departments of education technology, online learning and curriculum, teaching and learning. The Centre has also gone through three name changes, moved twice and undertaken two significant renovations all in the past three years, along with hiring 8 new staff.
On October 10 we want to show what we have been up to, what is happening and what is coming soon in CIEL.
We will host a very interactive day of activities and learning opportunities including a prize draw (of a bag of teaching resources) in EVERY Mini Learning Session and food and drinks too! Our Mini Learning Sessions (15 minutes long) will happen on the hour and half hour from 10 a.m.until 4 p.m. and will include topics such as:
Seven Principles of Effective Teaching
Learning Studios: Enhancing our classrooms
Teaching Resources for Faculty to Use
Community in the Classroom: Taking teaching and learning beyond the campus
Scholarship of Teaching and Learning: Support and Activities from CIEL
Scholarly Inquiry Projects: Ideas for Investigating Own Practice
Art in the Classroom: Using found poetry to make meaning
Seven Theory and Research-Based Principles of Learning
Open Educational Resources: Finding and Using Openly Licensed Online Educational Materials
WordPress Blogging: Ideas for Faculty and Student Blogging Projects
Clickers: How to Poll Your Class?
What's Happening in Learning Technologies?
CIEL Supporting Students: What are We Doing For Students?
CIEL Supporting Faculty: How are we Helping Faculty?
VIUTube: Getting Started with Capturing and Sharing Streaming Audio and Video
VIULearn Grade Schemes: Getting Creative with Gradebook (Desire2Learn)
VIU Learn ePortofolio: Empowering Students to Reflect on Learning (Desire2Learn)
Increasing Engagement in VIULearn: Intelligent Agents and Online Rooms (Desire2Learn)
VIULearn Dropbox Tool: What Can it Do for You? (Desire2Learn)
We are also planning a 'touch table' where you can try out a number of our resources and poke around on your own. We will also have a poster presentation area showcasing research projects and areas of investigation in the centre.
We hope people will drop by and take part in our first ever Open House. We will also re-offer some of the activities and lessons during the VIU Open House on Friday October 18th too!