By Carrie Johns, Secretary Registrar and Convocation, Registration Centre, VIU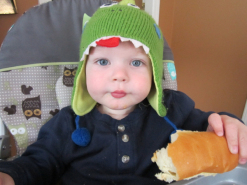 My son is two years old.  He learns new skills and new words at an incredible rate: yesterday, he pulled on his shoes by himself –  today, he asked for chocolate milk and French fries for dinner.  (I expect that tomorrow, I'll hand him the keys to the car and remind him of his curfew.)  Hardly a day goes by that I don't ask him, "Where did you learn that?"
Where does he learn these new skills?  Some things he learns from school – the shoes, new words, good manners.  Some things he learns from me – an appreciation for fried food and snuggling on the couch.  But it wasn't until asked to reflect on teaching and learning that I realized there was some things that I didn't want him to learn from me, including how I learned and applied that learning when I was in school.
I wasn't a poor student.  I maintained a B-average until I graduated from college, but I wouldn't say that I ever made the most of my education. I didn't take what opportunities were given to me, didn't think and apply myself more than I needed to.   And that was my fault.   I don't regret it, but like every parent, I want more and better for my children.  It's so easy to say, "I want my child to be a good student." But what does that mean exactly? Good grades? A master's degree and a high-paying job? Fluency in another language?
As I watch my son develop his muscles, I want to tell him how important it is to develop his brain as well, to think critically and ask questions, especially in school.  I want him to flex his problem-solving skills like he'll one day flex his biceps.  I want him to delve into his schoolwork and come out with an understanding of the subject and a desire to learn more.  But how do I teach him these things? That's something that I'm going to have to learn myself.