by Jessie Key, Teaching Faculty Member, Department of Chemistry, Faculty of Science and Technology, VIU
This semester I am teaching a fairly large section (for VIU) of 72 students in CHEM 232 (Organic Chemistry II). VIU, like many other colleges and small universities, has only a handful of lecture theatres which can actually accommodate this many students.
I am teaching in room 203, building 355. It is a lecture theatre which can hold about 105 stude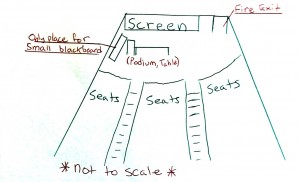 nts, and is organized into three sections (left, centre and right) with tiered theatre seating.  This is a standard arrangement for lecture theatres, and usually works fairly well. However, this particular theatre was not designed with modern teachers in mind. The lecture screen dominates the main viewing area, and there are no permanent writing spaces. A small chalkboard on wheels has been placed in the room (and is usually there, but sometimes gets moved to another adjacent room), but there is insufficient room to place the chalkboard in the main viewing area without placing it at an awkward angle simultaneously blocking the fire exit.
I teach using a hybrid of powerpoint and written examples. I find theory and text are readily absorbed by students via point-by-point powerpoint presentations. However, as one of my graduate school professors once said "Organic Chemistry is done with a pencil in your hand." Complicated mechanisms and mathematical problems are best approached by talking the students through examples, showing stepwise solutions by hand. This posed a large problem in the room where I teach, which is ill-equipped for this type of teaching. I tried using the portable chalkboard, but could tell students had severe problems seeing. There is an overhead projector in the room, but I find writing on overheads gets smudged easily, and the projector would need to be set up directly in front of my front row students, blocking their view of everything.
After discussion with Michael Paskevicius at CIEL, we came up with a solution to the problem that would not break the bank: using my own personal ipad mini as a document camera. Document cameras take up very little space and provide high quality projection of paper, writing, or whatever else you can place beneath them. A typical modern document camera costs ~500$ (eg http://www.epson.ca/cgi-bin/ceStore/jsp/Product.do?sku=V12H377020).
However, using the free stage document camera app (https://itunes.apple.com/ca/app/stage-interactive-whiteboard/id584574701?mt=8), a lightning to VGA adaptor, an ipad or ipad mini and a stand to support the ipad we can make a portable, good resolution document camera. The student view images above show the document camera in action, but please keep in mind these are low-resolution images taken with student smartphones. I like using the document camera as I can write out examples by hand, on paper. I can print out example questions directly onto the paper, there is no smudging, and I can use cheap, multi-coloured pens. Student response has been very strongly supportive of the change to using the ipad document camera, particularly from the students in the front rows whose views were obscured by the podium, and those in the back corners.
The Equipment:
ipad support: ~65$
Lightning to VGA adaptor: 55$ + GST at VIU bookstore
Stage document camera software: Free (pro version downloaded for 4.99$ as well)
*The Stage software has a professional version available for 4.99$, which allows for video recording, and I plan to test this out further making some video tutorials. However, it could hypothetically be used in class but I would think the usual classroom noises would detract from the audio quality.
*I would like to thank my CHEM 232 S2014 students for sharing their images for use in this blog post*