Course Redesign Institute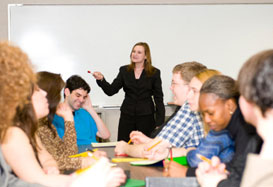 Teaching Faculty Members: Do you have a course next term that could use a boost of new ideas or an enhancement to engage students more? Do you want to reconsider your assignments and ensure they are in alignment with intended learning outcomes? Might you have a course that is working okay for you and your students, but it could be better?
If we want to get more student buy-in, and reach our intended outcomes, we need to think more systematically about how the moving parts of our courses work together.
In this Institute we will zero in on key elements of course design so that you can aim your course at what you want your students to be able to know, do and value.    You'll come away with ideas for structuring student interactions with your material that will foster more productive attitudes about your topic. We'll examine how student development may affect the design of your syllabus and how you can frame your course activities, assignments, and exams to ensure that students achieve the outcomes you expect.
This Institute will be conducted as a blended course, with online components and two mornings spent in face-to-face discussion and hands-on development activities.  It will be facilitated by Kathleen Bortolin, Bill Roberson and Tine Reimers of the Centre for Innovation and Excellence in Learning. Attendance is by application as space is limited to 8 seats. Please apply by Friday, November 14th. Successful applicants will be notified Monday, November 17th.
Time Commitment and Important Dates
Before the Institute (November 21—December 3): Online engagement in VIULearn (D2L)
In order to maximize time and accessibility, participants will engage briefly in an online module.  This online space will provide the basis for our face-to-face session in December by supporting participants in short activities and discussions related to course redesign.  This module will open on November 21st and will require about 3 hours of time to complete before December 3.
Wednesday, December 3, 9:00am–1:00pm Face-to Face Session – Lunch included
Aiming our Courses: What do we want students to be able to do, know and value?  In this session, we will outline our goals and expectations for our courses, and work interactively to continue to structure our course outcomes.  Participants should bring an existing syllabus of a course they plan to teach in January.
Thursday, December 4—Sunday, December 7 Online engagement in VIULearn (D2L)
Participants will return to the online space to engage briefly in activities and discussions that build on our F2F work, and continue to support the course redesign process.  Participants will be expected to engage for roughly 2-3 hours over the four days.
Monday, December 8, 9:00am—1:00pm Face-to-Face Session, Lunch included
Activity and assignment design: How do we know the students are 'getting it'? In this session we will work on aligning our in-class activities and assignments with the outcomes and learning expectations of the courses being redesigned. Participants will come away with new ideas for how to get students to practice the kind of thinking expected in their discipline and solid strategies for assignment design and assessment of learning.
Registration is by application with limited seating.  Please apply by Friday, November 14 at https://fluidsurveys.com/s/CourseReDesignInstituteDec2014/
Contact: Bill Roberson, Curriculum, Teaching and Learning Specialist, Centre for Innovation and Excellence in Learning bill.roberson@viu.ca, or by phone at 753-3245 ( local 2295).