VIU Teaching and Learning Conference: Celebrating Impactful Assessment
Wednesday, May 10 – Friday, May 12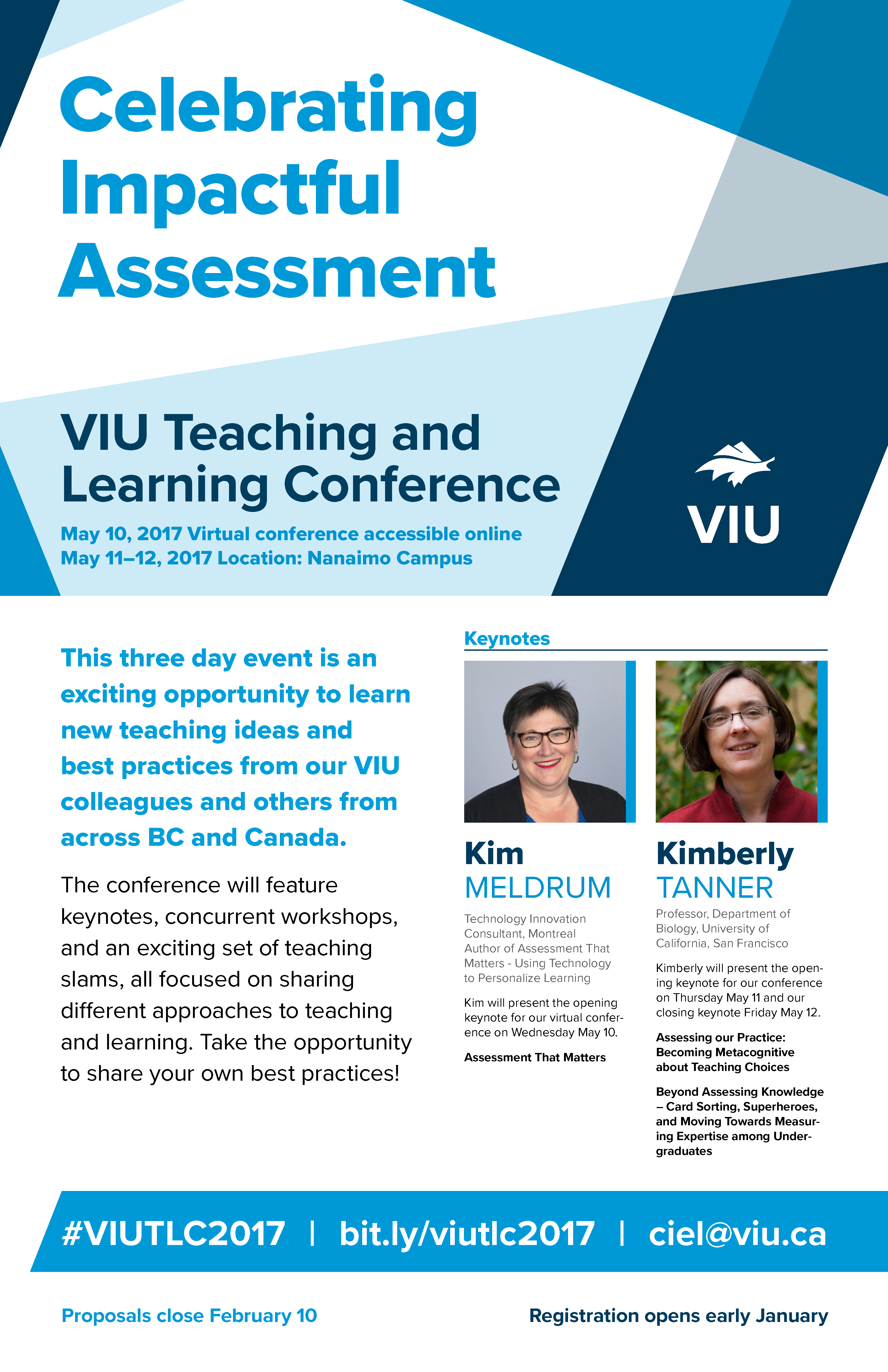 Conference Website: bit.ly/viutlc2017
Program Sessions: Link (online schedule that allows you to bookmark sessions you may wish to attend; adding sessions to your schedule does not mean you are registered – please still complete the registration for each day you wish to attend)
Registration Site: Link (Registration is FREE for any VIU campus member and $30 per day for non-VIU attendees. You must register for EACH day you wish to attend)
The Centre for Innovation and Excellence in Learning will be hosting the fourth annual Vancouver Island University Teaching and Learning Conference on May 10-12, 2017 at the Nanaimo Campus. The conference will feature three keynote talks on assessment, 24 face-to-face workshops, 3 online sessions and two exciting sets of "teaching slams", all focused on sharing different approaches to teaching and learning. A light breakfast and lunch are included on Thursday and Friday – along with lots of great networking and learning opportunities.
This year's conference theme is: Celebrating Impactful Assessment. Assessment is more—much more—than evaluation. It's the starting point for learning. It's the means by which we generate feedback necessary for growth and progress. It's how we get students to take stock of their assets, so they can assume greater responsibility for their own journey. Assessment is, fundamentally, the process that promotes learning for all of us, students and teachers alike.
Kim Meldrum is our virtual keynote on Wednesday and Kimberly Tanner is doing the opening and closing keynotes for our on campus conference portion. Join us for three days of engagement, in which we consider the concept of assessment in all of its manifestations: not just assessment OF learning, but also FOR learning and AS learning.
Wednesday, May 10 – Virtual Conference | Virtual Keynote: Kim Meldrum – Assessment that Matters
Thursday, May 11 – Nanaimo Campus | Keynote: Kimberly Tanner – Assessing our Practice: Becoming Metacognitive about Teaching Choices
Friday, May 12 – Nanaimo Campus | Keynote: Kimberly Tanner – Beyond Assessing Knowledge: Card Sorting, Superheroes and Moving Towards Measuring Expertise among Undergraduates