by Olaf Ernst, Visiting Scholar,  NHTV Breda University of Applied Sciences (Visiting Department of Recreation and Tourism Management, VIU)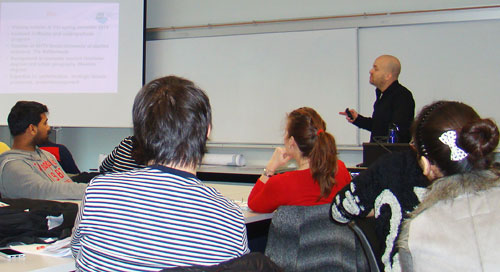 As you probably remember I am not a regular VIU faculty member, but a long-resident visiting scholar from a country on the other side of the globe. Now, after having been here for almost three months I decided to devote my last 5x5x 25 blog to my overall 'teaching and learning' experiences here on campus. I kept a small diary in a little, orange booklet, which served as my memory of all the insights I gained until now. I have to start by saying that my observations are just based on a specific department of VIU and of course they are only a 'snapshot' of what is going on here. Also I did not participate in all classes and was not involved in all discussions of teaching and learning –although many times I was, and I am very thankful for that.
So, after having read the last part of the paragraph above you probably notice I am already infected with the Canadian 'disclaimer'-virus, I have seen on and off campus. I have experienced quite some situations where liability, privacy and accountability played an important role. For example, one colleague told me I should be very careful with the student list she copied for me, because the information on that was privacy-sensitive –even though with my European eyes I did not see anything that was personal at all. Besides that, I was involved in some student field trips and regarding transportation as a faculty member it is not allowed to take students into your car. Suppose an accident happens and all the liability issues that might play a role then…Again, I would say as a non-North American: well, then we will see we fix this. On the other hand I was surprised that there were no clear rules and procedures regarding exam organization and invigilation in class. Basically every teacher is responsible for this him or herself.
I saw this flexibility also coming back in the design of courses: because most of the subjects are taught by only one teacher, there is the opportunity to 'play' with planning. So when there is an interesting guest speaker you want to invite for next class, you simply re-schedule some of your material to the week after. Or you do an exercise in class in a different way than your manual says. My time and task-focused students and colleagues back home would go mad if this had happened! Also because many of the courses at my university are taught by teams of 5 up to 15 instructors, so manuals and planning should be followed precisely. At the same time VIU planning is demanding for students, as they need to earn 15 credits in only 3.5 months. For that same amount, my students have time from January until the end of June –which implies our student summer holidays really only take place in summer….
In my department I am impressed by the relationships faculty has with communities on Vancouver Island and the work field in general. This is very important for studies that promote the applied way of teaching and I think you do a great job here. I have the feeling VIU is highly valued 'out there' and professionals enjoy being here to give a presentation, to be a co-op company or to do joint research.
Still, many discussions I have seen here are comparable with my university in The Netherlands: re-design of the curriculum, policies how to attract new students, recruitment of staff and how to deal with student's behavior in class. At the same time, the Canadian approach how to tackle these topics is in general more constructive and positive than it would be in Europe. This is definitely something I am going to take with me back on the plane within a few weeks and a quality I would like to keep for the rest of my career!