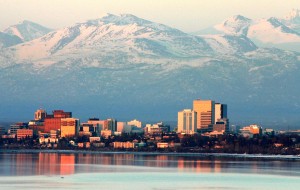 by Kathleen Bortolin, Centre for Innovation and Excellence in Learning, Vancouver Island University
Reflections on the 2014 Higher Education Teaching and Learning (HETL) Conference, Anchorage, Alaska
Flying into Anchorage, Alaska, hemmed in on either side by views of snow-capped mountains rising out of the ocean, I began wishing I had packed my hiking boots and tent instead of my conference outline and business cards.  Probably the only delegate at the 2nd annual Higher Education Teaching and Learning (HETL) conference NOT piggy-backing an amazing outdoor adventure onto the conference, I stepped off the plane onto Alaskan soil with woeful regrets.  Alas, I had to return home relatively quickly (I have small children).  I had come to this majestic locale primarily to engage with a community of international educators around the theme of educational technology in higher education.  A young organization, HETL is carving out a much-needed international niche for higher education teaching and learning gurus to inspire one another.  This my first experience with HETL, I noted some discernible growing pains.  Nonetheless, I feel like championing HETL, a scrappy young newcomer to the landscape, and applauding its goal of engaging an international audience.  HETL casts its net further than more nationally-based organizations, and I have to say, the global perspectives, conversations, and ideas that emerged in Anchorage were valued by me as the number one take-away.  That and memories of the midnight sun.
There were so many great sessions at this conference that is was gleefully painful to pick which sessions to attend.  Similarly, it's difficult to summarize in this blogpost all that resonated with me.  For this reason, the following is only a snap-shot of all that I reflected on as I flew away squinting at Mt.McKinley in distance.
Witty and eloquent, Dr. Lorraine Stefani of the University of Auckland, wowed me every time she spoke, and not only because of her Scottish brogue.  A powerful start to the conference, Dr. Stefani reached into my Freireian soul by making connections between emerging tech-enhanced pedagogies and the co-construction of knowledge.  She drew on Piaget, Freire, and Vygotsky, old favourites who have become regretfully ghost-like in my life.  Her arguments around the co-construction of knowledge and empowerment stirred in me a somewhat distant sense of meaningfulness, reminding me of how I came to be here in the first place.  Inspiring an epiphany is always a good way to start a conference.
On day two, Maria El-Chima and Medwenna Buckland presented on information literacy modules designed for students at their (many) campuses at the Catholic University of Australia, and embedded as a hurdle requirement in courses on their LMS.  Well-designed, professionally-created, and clearly student-centered, the content of their modules was inspiring, especially in light of VIU's emerging digital learning commons initiative.  Maria and Medwenna stayed late to show me all of their great resources (there was no projector in their conference room–insert growing pain here).  Hungry for more, the three of us hunkered down at lunch to discuss the role of university libraries and the various ways they can partner with teaching and learning centres.  This was a discussion that re-emerged throughout the conference most notably by Carrie Moore and Vicki Stieha (Boise State University), and Jason Ware (Purdue University). Maria, Medwenna and I also talked about creative writing, Banff, and why Australians are so darn cool.
Jason Ware from Purdue University, equipped with smart bow tie, was yet another kindred spirit.  Jason discussed his teaching and learning centre's intra-institutional collaborative approach to course redesign.  In his model, an educational developer, instructional designer, and a library consultant work with faculty members to redesign a course.  Like Jason, I continue to advocate for projects and models that emphasize a co-sharing of resources and capacity across campus, a collaboration I believe can support course design in powerful ways.  Afterwards, he and I compared notes on how to best incorporate another collaborative partner into teaching and learning centres–students.  He knew of Bryn Mawr's innovative model and we agreed–students need to play a bigger role in our processes, especially in regards to how we work with faculty around technology tools.
Fast-forward to session H, or the very last session, in which Dr. David Giles of Flinders University (Australia) began by situating himself in place, and then emphasized the role of the narrative and reinforced the importance of relationships in higher education.  Sitting next to Claire Hamshire from Manchester Metropolitan University, I noted that we both got a little giddy when he mentioned Heidegger and phenomenology.  We admitted (via twitter) that we were glad we did not sneak out too early to rent bikes and look for bears.  A fantastic way to end the conference, Dr. Giles had me reflecting on how relationships, place and story-telling, so salient to me and my work, need to be incorporated, or at least not overlooked, as we continue to evolve in this brave new ed-tech world of higher education.
There were, of course, many more take-aways.  I reveled in sessions related to virtual communities of practice (Sarah List, University of South Australia), portfolio development (Melissa Birkett, Northern Arizona University), community-based interdisciplinary inquiry projects (swoon) at Loyola Marymount University (John M. Carfora and Eric Strauss) and diversity in educational development (Kimberly Kenyon and Theresa L. Pettit, Cornell University). There were the conversations at lunch and in the corridors that connected and inspired, and that I believe were far more interesting, and richer, because of the global perspective.  I was, however, rather cold and hungry throughout most of the conference.  But I am thankful for even this as it helped me to have a little bit more of the "true" Alaskan experience that I missed out on by flitting off early–and by "early" I mean the day after the conference.
Thank you again, HETL for this opportunity to meet, engage, and be inspired.  And thank you to all the delegates for sharing your stories and working together to enhance student learning through the use of technology, not to mention through Freire and Vygotsky.