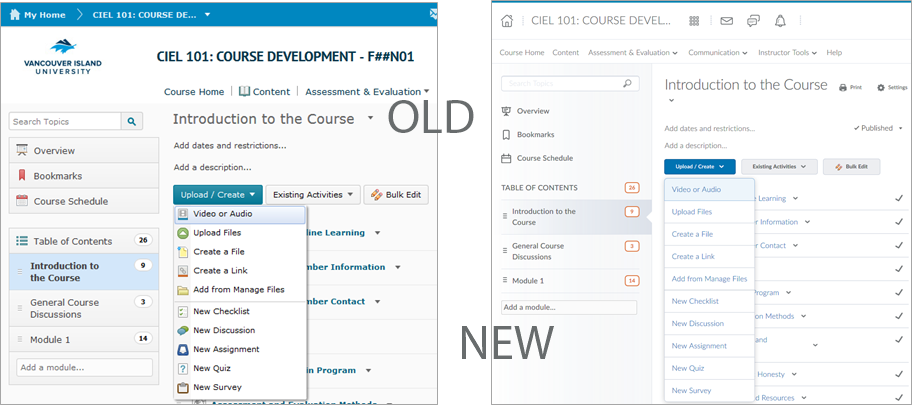 On April 30th, VIULearn (VIU's learning management system) will be changing its look to a more modern and cleaner interface – called Daylight.
Daylight is a brighter and more stream-lined environment with emphasis on faculty and student activity. The way VIULearn functions (where buttons are, how things work) remains untouched as the entire system will work the same. Everything will be in the same spot and function the way it always has.
Daylight is like a new 'skin' for the platform that includes larger fonts, more space between lines of text and a new colour palette. It is all geared for mobile learning with more space for people's fingers to locate tools and buttons with greater ease. Daylight improves accessibility, readability and navigation.
By far the best feature of Daylight is called "responsive design". This means that the web environment is the same for mobile and desktop systems through an automatic adjustment of page items depending on screen size (i.e. the screen readjusts for smartphones and tablets with blocks of content tiling or stacking for access in narrower screen widths). Currently the mobile version of VIULearn is a completely different piece of software that has many non-functional components preventing students and faculty from optimal use of key features.
The Centre for Innovation and Excellence in Learning is holding public awareness sessions from November 2016 – April 2017. During these sessions you will see examples of Daylight in our VIU instance because the Centre has Daylight running on a 'test environment'. The slideshow and handout from the session are accessible below in case you couldn't make a session – or want to learn more. Also included below is a 2 minute overview video and webpage explaining the changes in more detail.
Handout (PDF opens in a new window): Daylight VIULearn Handout
2 Minute Video from D2L: Overview of Daylight Changes
VIU "Daylight is Coming!' Slideshow: Click on arrows at bottom left to advance | Choose Full Screen Arrows to see larger version
Note: The slideshow begins with some stats on use of VIULearn at VIU and then launches into before/after shots of the learning environment.