Student Success Tip #3: Choose good study strategies
What follows are some quick tips and strategies for studying, but many more in depth resources can be found at on VIU's Learning Matters website.
The most important ingredient when studying is not how long you study for, how passionate you are, or even how innately gifted you are. The most important ingredient is how you study. Choosing the best strategies, that focus your thinking in certain ways, help set students up for success. The following are some strategies that you may find helpful for studying.
The following strategies are from the Science of Learning. Click here to open up a PDF of the booklet so that you can explore in more depth 6 excellent strategies for learning.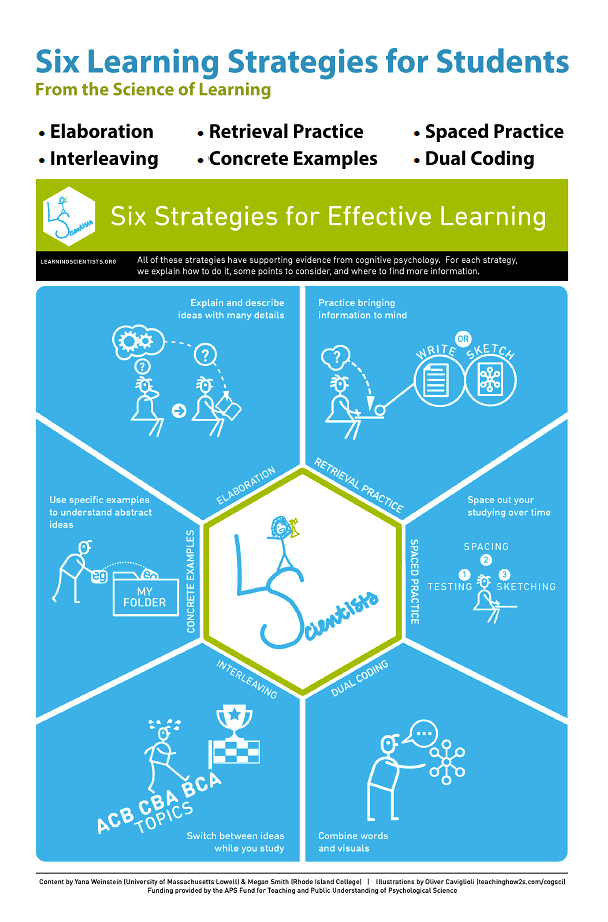 Here are 10 more tips that may be helpful. If you're looking for more tips, check out how to be an even better learner at VIU's Learning Matters website.
Make a list of all the topics that you need to review and tick them off as you go.
Use your coursework wisely; make summary notes which summarise all of the key information.
Plan your time out. Work in manageable blocks of time and switch between topics and subject matter to keep it fresh.
Work with a friend; explain theories and concepts to each other – imprints the knowledge in your mind.
Make up exam questions with friends and try answering each others' questions – mark each others' answers.
Make wall posters for your bedroom – note down key words and details for each topic.
Make up acronyms to help remember lists of keywords/facts/dates etc.
Remind yourself of the meaning of key words used in essay questions such as 'discuss', 'analyse' etc,
Don't cram like crazy the night before your exam. Keep it review free if possible – have a good night's sleep!
Seek help if you have difficulties in understanding areas of work, or performed poorly in exams in the past.
We're in this together
Although it might not feel like it right now given all the uncertainty of our times, remember that we're in this together. VIU wants students to feel connected, safe, and supported at this time. Remember to take care of yourself and stay connected to your people. If you're faltering it's okay, but pay attention to how you're feeling and reach out to instructors, classmates, support people, and VIU if you need to. Take some time when you can to make a plan. Try to stay organized. Use good study strategies. If you are unsure or confused about expectations or new technology, reach out to instructors or learnsupport@viu.ca. If possible, find ways to reward yourself for study milestones, even small ones. Take care of yourself, reach out to those who might need your help, and know that all of us at VIU are on your side, holding you up and cheering you on.