The past few weeks, we have been running sessions to introduce the VIULearn Assignments tool to those who may never have used it. This session walked through the key settings and fields in the tool from creating an assignment submission folder to grading and releasing feedback and marks to students.
We also gave some pedagogy advice about how to build and structure a good assignment as well as some common difficulties students may have with uploading to Assignment Submission folders and how you can help your students avoid these issues
There were lots of fantastic questions asked in these sessions. Below is a recording of the main session content. We have also captured some of the questions that came up in these sessions and some answers for those questions.
How do I create a group assignment submission folder?
In order to create a group assignment submission folder, you will first need to create a group category in the Groups tool. You can find more information on creating groups and group assignment submission folders on our website here: https://ciel.viu.ca/learning-technologies-innovation/viulearn/communication-tools/creating-groups
What files types can students upload to the Assignments tool?
Here is a list of all accept file formats within VIULearn: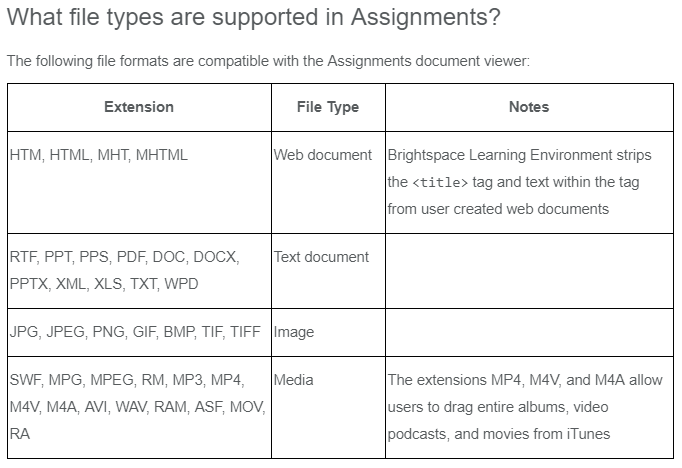 Please note that we do not recommend uploading any video or audio file directly to an assignment submission folder. We would always recommend that students upload their video and audio files to VIUTube first and then submit their assignments to the assignment submission folder by providing you the link to the VIUTube video.
Is there a size limit to audio feedback files?
You will only be able to record a maximum of 2 minutes using the Record Audio function in VIULearn. If you would like to record longer feedback files or would like to record video feedback, you can do so by inserting a VIUTube video into the feedback field using the Insert Stuff button.
The video on this webpage here showcases how you can embed a video into a VIULearn file using the Insert Stuff button https://ciel.viu.ca/learning-technologies-innovation/viulearn/content-tools/working-media-viulearn-files
Please note that this video here demonstrates how to insert a video into a content file. The beginning steps for inserting a video into the assignment feedback field will be different. However, both the content file input field and the assignment feedback input field contain the same text editor options, so the steps for inserting a video into the input field provided will be the same.
Why do the Annotations tool looks different on my screen?
If you are using the annotations tool on a smaller screen, VIULearn will collapse all the annotations tool underneath a single icon in order to make the best use of the available width. After your screen reaches a certain size, all the annotations tool will collapse underneath this icon:

If your screen is on the smaller side, you will need to click on this icon and then select what Annotation tool you would like to use.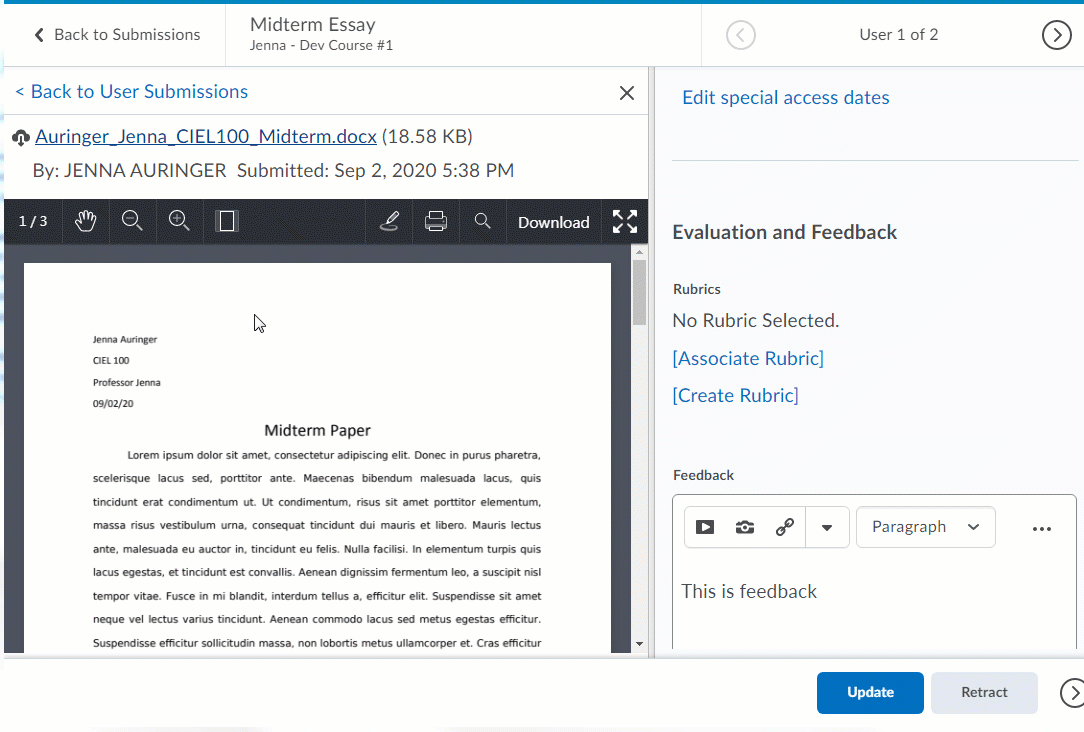 How can I practice using the Annotations too?
You can submit a practice file to an assignment submission folder by using the View as Student function. We have created a short video demonstrating how to submit and view a test submission to an assignment submission folder, which you can view here: