Noriko Fujiwara / Assignment #3
I chose "LOVE" as the concept of posters. I made this first poster to show people that this store has lots of fancy candies they can choose, and I found this store has more than 100 flavours in their candies and gummies, also they really care about the quality of them, so I used LOVE to describe the flavours they make. The candies which I drew are based on their actual ones which people can buy at Squish, and reason why I drew the same bag as original one is because I thought people can recognise easily when they saw the bag. Moreover, the store has account on facebook, twitter, and instagram, so by putting these marks on the poster, it may help people to access that website.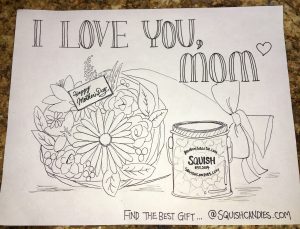 I designed this second poster to suggest people to give their mother lovely gift from Squish on Mother's Day. The first one's "love" was from the store with the quality of candies, but this second one's "love" is used for a gift to tell their love to someone. Also, the candies in the container are all heart shape which shows the concept of the poster. I made this for Mother's Day (because it was last week), but it can be flexible, such as anniversary, and birthday. I thought the candies don't need to be the main present. However, it can be the best side gift with flowers.