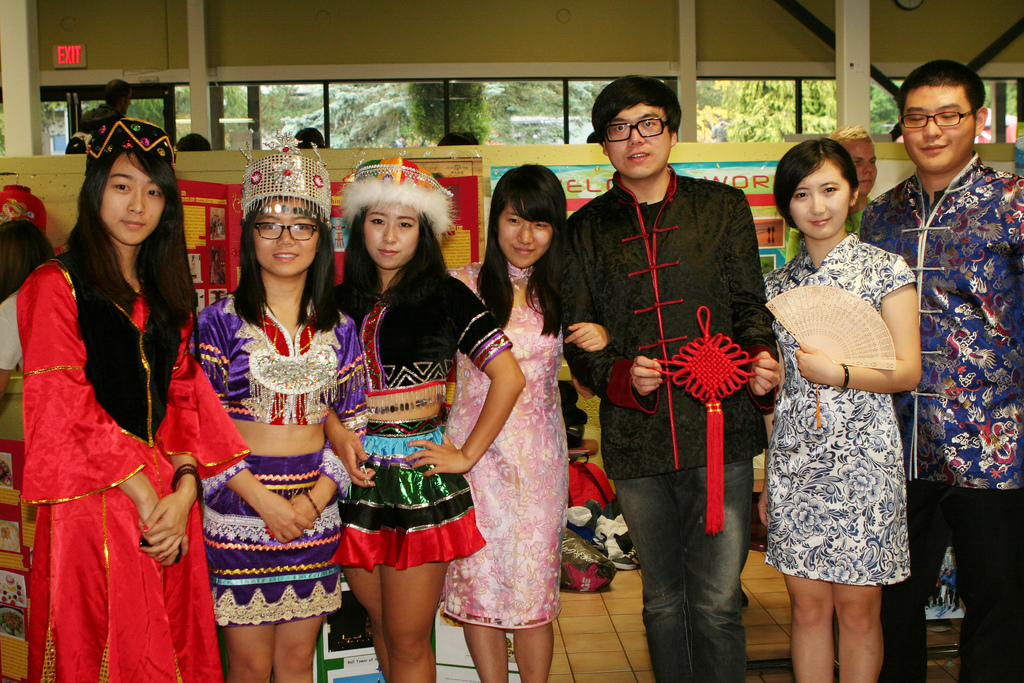 I feel ever so lucky to be able to work at Vancouver Island University where international students are welcomed and international experiences for students and faculty alike are encouraged as well as supported.  And NEW! Starting in fall 2013, students going on a VIU exchange program for one or two semesters will receive the IE Exchange Award of $2200 (international students will only be eligible for this funding under certain conditions): http://www2.viu.ca/educationabroad/   If that is not an encouragement for education abroad, I am not sure what is!  AND this up-coming July, through Vancouver Island University's relationship with Seoul Women's College, I am one of the lucky, successful applicants chosen to travel to Korea this summer to participate in Bahrom International Program 2014: http://www2.viu.ca/educationabroad/bip.asp
I am a believer from way back in developing intercultural communication and understanding through travel.  My first big travel experience was when I was in grade 10 – I travelled with a "Rep" band to Japan; this was my first and most influential travel experience.  We stayed in a hotel but once, while the rest of our experiences entailed staying with homestay families across the country.  We not only shared our music, but also food, culture (like traditional tea service and flower arranging), school, watching television in Japanese and games, like playing baseball with the youth we met in our travels.
I was so taken by this experience that I saved every penny I earned from that point forward to go toward my European travels when I spent three months, camping and travelling around Europe through England, France, Belgium, Luxembourg, Switzerland, Germany, Italy and Greece with two of my best buddies.  I enjoyed meeting people such as the fishermen and restaurateurs in Greece, older people on treks from town to town in the Swiss Alps (we young Canadians travelled at their walking pace!), other celebrants at cultural events such as Oktoberfest and art students who came to enjoy the art and architecture, particularly in France and Italy.  My international travels ended once I started university and did not begin again until I began my employment with VIU, then Malaspina College.
In my first year teaching, during the initial years of the Co-op program, students went out on work experience during the months of January to April, which meant that my vacation time was in winter and my chosen destination was to the sun of Australia and Malaysia.  I spent a month in Australia travelling north with a friend along the west coast from Sydney up to Queensland where everyone we met truly knew how to relax and enjoy themselves; the laid back ways of the Aussie were so warm and endearing.  When travelling in Malaysia, I made sure to bring long skirts to cover my ankles and long sleeve shirts that buttoned up high, which I wore, despite the heat, because my homework indicated I needed to dress very conservatively to blend in with the cultural norms for women in that country; this was particularly important to me as I was travelling alone there.  I had such fun meeting and getting to know people as I explored the different and distinct cultural zones of Malaysia.
My last major international trip prior to the birth of our first child was to Belize for an Eco-tourism Conference, which was highly educational.  After the conference I stayed on to travel with some people I met at the conference.  One of our day trips took us to Guatemala where we explored the Mayan ruins and had supper with a local family in Guatemala on our drive back from the ruins to Belize. The chicken we saw running around the yard where our driver stopped on the way to the pyramids to arrange our supper was no longer in the yard upon our return; we had chicken on our plates at supper though!
My next trip took my youngest son and I on a 2-week trip to build two houses and outhouses for an extended family in Tacate, Mexico.  It was an eye opener for him to see life in another country in North America with such humbler living conditions compared to those we take for granted here in Canada, even in our "low rent" districts. Since that time, we have taken our family on a cruise that landed us in ports on the west side of Mexico where this son of mine and my other two were able to experience a different side of Mexico; exploring those differences was also an educational experience.
My own personal and professional gains from my travel experiences make me a strong proponent of international travel and the alternate cultural lens one can gain from such experiences. I am always eager to encourage VIU students to take advantage of the many and varied education abroad opportunities our school makes available to its students through Study Abroad and International Field Schools: http://www2.viu.ca/educationabroad/
This year I have seen a surge of interest in Korea as a study abroad destination among the VIU students I chatted with, so I am extra pleased that VIU is affording me the opportunity to gain some first-hand knowledge of this country through the Bahrom International Program (BIP).  I believe I will be better able to promote student interest in Korea as a study abroad destination after my own travel experiences in that country.
I have travelled extensively myself and my life has been enriched by my travel experiences so I know first-hand how personally and professionally rewarding travel can be.  Moreover, in my faculty position in the department of Recreation and Tourism I regularly work with international students and I believe my varied cultural experiences help me to be a more culturally sensitive listener.
My opinion is that all of our students and faculty should take advantage of at least one international experience, if only to know what it is like to be the "foreigner" and in the minority let alone for the many additional advantages and insights international travel can afford.  Fortunately, we educators and students alike at VIU are in the enviable position of having an international department that is set up to facilitate these kinds of experiences for both faculty members and students.  At this point, they are optional, value added, opportunities.
If it were up to me, however, I think I would make an international experience a mandatory component of every student's education at VIU.