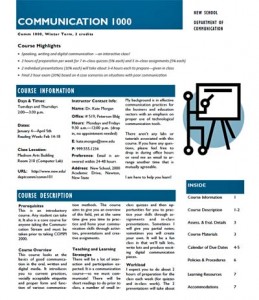 Most often teaching faculty in higher education don't receive much instruction or guidance on building a comprehensive course outline. Course outlines (or syllabi) are often passed down from one instructor to another with little discussion or explanation.
Deans, chairs and other leaders in the department try for consistency and common elements in a course outline to assist students in finding the key components – but often don't have time to thorough investigate what makes for a compehensive course outline.
There may be a 'template' or a set of key components one has to include in a syllabus (from department or institution), but again these templates often go without a 'guide' or set of pedagogical methods' as to how to use the course outline/syllabus in the classroom to aid in learning. Sometimes they haven't been updated in years to reflect current design, components and visual design.
I've attempted to close that gap with some resources listed in this blog post. I also hosted a few workshops this past term on building a graphic syllabus or at least one that is more visual in nature. I see faculty quite receptive to suggestions to improve the course syllabus.
Designing a good course outline is all about good learning design (from how you display text and images as it relates to readability, comprehension and usability by students to content and use in the classroom! Feel free to enjoy the resources I have shared below and consult other links, books, and videos further down page for more information.
GUIDE: Developing an Designing a Comprehensive Course Outline (Syllabus) Developing Course Outlines PDF
Guide for higher education faculty including components to include, how to design and how to use in class.
TEMPLATE: MS Word Template in newsletter format: Course Outline Course Outline Template (Word)
Can edit all components in Word. Built on textboxes so content doesn't flow and make changes to rest of document. Add new textboxes to use.
SAMPLE: Fake Communication Course done in newsletter format PDF
Created this sample to show one way to make your course outline/syllabus more engaging.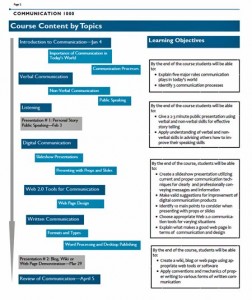 RESOURCES:
Articles
Creative Approaches to the Syllabus (The Chronicle of Higher Education)
A Graphic Syllabus Can Bring Clarity to Course Structure (Faculty Focus)
How To Documents
Write the Syllabus (Carnegie Mellon University, Eberly Centre – Teaching Excellence & Educational Innovation)
Writing a Syllabus (Cornell University, Centre for Teaching Excellence)
Checklist
Course Outline and Course Syllabus Guidelines University of Fraser Valley
Videos
Course Activity Maps YouTube
What is a Graphic Syllabus? YouTube -Winona State Teaching, Learning and Technology Services
What's in Your Graphic Syllabus? YouTube – Winona State Teaching, Learning and Technology Services
Student Responses to Graphic Syllabus YouTube – Winona State Teaching, Learning and Technology Services
Books
The Graphic Syllabus and the Outcomes Map: Communicating Your Course Linda B Nilson – found in VIU CIEL Resource Collection
The Course Syllabus: A Learning-Centered Approach Judith Grunert O'Brien, Barbara Mills, Margaret W. Cohen, and Robert M. Diamond – found in VIU CIEL Resource Collection