By Students in Practicum II, Ocean Kneeland, and Antje Bitterberg
Creating the event:
The public event 'Collaborative Dialogue – Learning together and building relationships: A professional development opportunity for early childhood education students, mentors, and curious educators' is a series of three events imagined and created in collaboration between the VIU ECEC Program and three regional CCRRs: Cowichan, PacificCARE in Nanaimo, and Powell River. When we began to imagine this event, it was important to us to create a space for ongoing dialogue that could hold all of us – students, educators, instructors, and community members in and across our regions. We decided that a series of online events, rather than one, would allow us to nurture a space for dialogue and connections over time. We will share a definition of collaborative dialogue from the Early Learning Framework (Government of BC, 2019), our process for continuing the conversations after the event, and offer some traces of our conversations.
Collaborative Dialogue:
"Collaborative dialogue means inviting comments, questions, and interpretations from children, families, colleagues, and community members to elicit multiple perspectives. This process opens avenues for discussion not to find answers but to explore the different ways of thinking about pedagogy, and to invite reflection on assumptions, values, and unquestioned understandings. Ongoing collaborative dialogue can enrich and deepen perspectives, and can challenge educators to consider new ways of seeing, thinking, and practising."
(Government of BC, 2019, p. 50)
Revisiting the event with students:
To invite students to reflect on the 'Collaborative Dialogue' event, we (Ocean and Antje) visited the students in their practicum seminar a week after the event. We wanted to express our deep gratitude to the four first-year students who shared their pedagogical narrations at the event. We also wanted to acknowledge the students in the audience and their contribution to creating a lively and welcoming space for their peers. In conversation with all the students and their instructor, we learned that many of us embraced uncertainty and an openness to experiment together. Below are two images we created with students to describe what was most meaningful to them.
Students who offered their work at the event shared these reflections: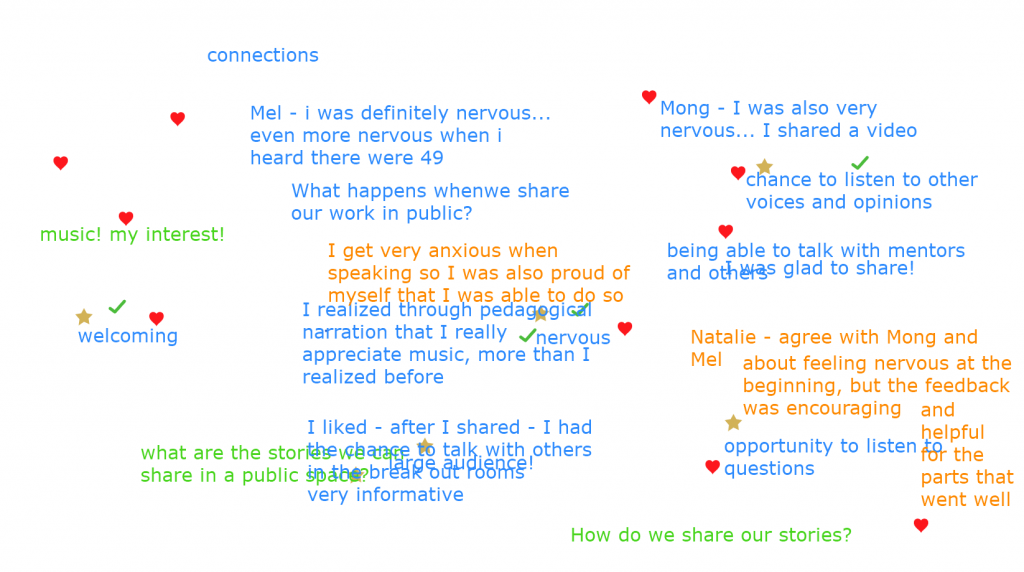 Students who listened and engaged in the event shared these reflections: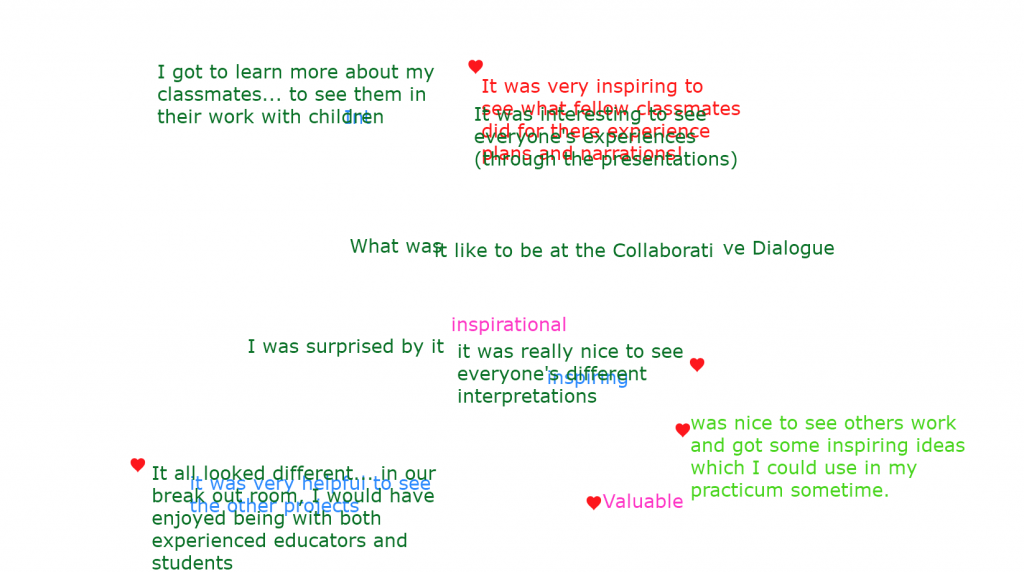 Continuing the Dialogue:
We invite you to share your response to our post or the event by submitting a comment! You might also share your ideas and hopes for future events. What are you curious about and what kinds of professional development opportunities are meaningful to you?
Reference:
Government of British Columbia. (2019). British Columbia early learning framework (2nd ed.). Victoria: Ministry of Education, Ministry of Health, Ministry of Children and Family Development, & British Columbia Early Learning Advisory Group. https://www2.gov.bc.ca/gov/content/education-training/early-learning/teach/early-learning-framework