By Rita Huang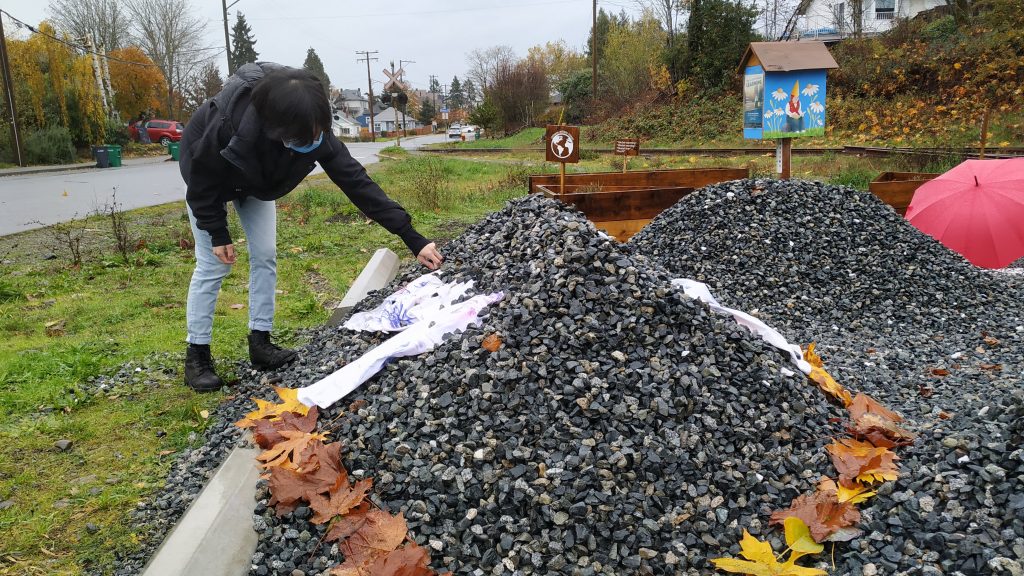 This morning, our pedagogist Antje arrived in front of our classroom to visit with us. The two of us walked down the road to a stone area, which is located at the end of a parking lot in our neighboring daycare program. The parking lot belongs to the train company and is a shared space in this community. There is a little wooden box with children's books. Anyone is welcome to grab books from this little box and sit down on rocks or benches.
We spent time in this rock area
To see what we could do or create
We took a few minutes to stand under the rain
It brought energy and calmed us down
Time passed fast, leaves fell down from trees
We are almost at the end of the fall

I said, " If we are only looking at the rocks, we won't feel time changing, even thousands and thousands of years. However, when we see leaves as they lay down on the rocks, we know time is changing." We illustrated this idea in this way with the stones and leaves: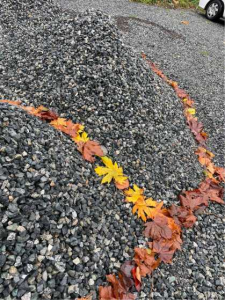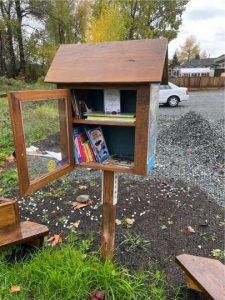 This library area is open to their neighbourhood. Antje shared an idea from one of my classmates: "I wonder what would happen if we put the BC Early Learning Framework here?" I was inspired by this idea. Perhaps we could offer a blog or a memory notebook beside the library, and share one of the Principles from Early Learning Framework, which uses the environment as the third teacher. People from this community and neighbourhood are welcome to sit down and spend time to share their thoughts on the blog or note book.
We decided to bring rocks from the stone pile to the centre, along with fallen leaves that we found on our way back. We moved the stones and leaves to the centre's backyard. Children dressed for the rain and came with muddy bodies. We invited the children to sit around a table and told stories about this project to the children. We were going to play with chalk pastels, rocks, and leaves on a large sheet of paper. I was curious, ' What might the children create and how might they build a relationship with those fresh materials?' We wouldn't know at the beginning. I noticed some children saw the chalk pastels as a gift and chose their favourite colours and had fun on paper.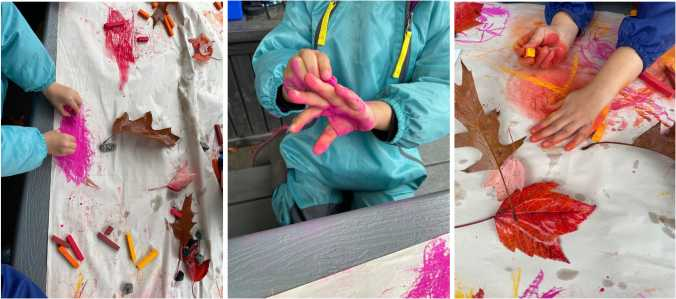 Thanks for reading!
References:
Government of BC. (2019) British Columbia early learning framework. Victoria, BC: Queen's Printer.